Everything is ready in Havana to welcome the 22nd MITM Americas
By E-Global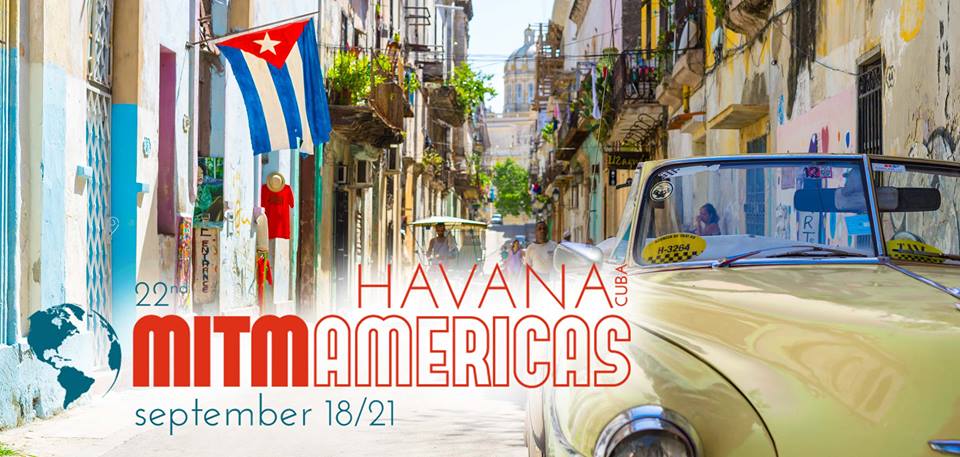 The magical city of Havana and its hosts are ready to receive the 22nd MITM Americas participants, Meetings & Incentive Travel Market that will be held in Meliá Cohiba Hotel, September 18/21
An exquisite welcoming reception offered by Iberostar Hotels in the rooftop of the breathtaking Parque Central Hotel, will warm up MITM Americas´ participants to the gastronomy and Cuban music. The next day, the work sessions will begin; a luncheon will be offered by Melia Hotels International in the charismatic "Habana Café" and to end the day, Ecotur, official agency of MITM will offer us the opportunity to enjoy a dinner with spectacle in one of the world´s most renowned cabaret, Tropicana, in which since 1940 has been graced with the presence of countless personalities from contemporary history. And to conclude, the last day after the morning´s business meetings you will enjoy a work luncheon offered by Kempinski Hotels in its luxurious hotel, "Gran Manzana" and as a closing ceremony to this edition all participants will enjoy the closing dinner in "La Habana Vieja", where we will welcome the participants of the 1st ACTUAL Congress.
Other than the aforementioned sponsors, MITM as in previous editions counts with the support of the Ministry of Tourism of Cuba (MINTUR), as well as some of the most important international airlines in the world: Air Europa, Aeromexico, Avianca, Interjet, Copa Airlines and United Airlines.
Participants will stay at the Meliá Cohiba Hotel, a benchmark when it comes to the business and congress tourism of Havana, in the majestic Gran Manzana Kempinski and in the newly inaugurated Iberostar Packard Luxury Hotel.
MITM Americas HAVANA will convene hosted buyers from 30 countries (Europe and USA mainly), of the highest level in the tourism sector during 3 days in Havana. All of which are executives from the following profiles: Corporate (19%), incentive agencies (27%), meeting planners (25%), international associations (10%) and tour operators (19%).
MITM Americas, a trade show focused entirely on business, in which participants are allowed up to 30 pre-established appointments following the criteria of: perfect match, requested by buyers and requested by exhibitors, maximizing the efficiency of their work hours. An exceptional networking program that guarantees interaction between exhibitors and hosted buyers and fosters business bonds.
In the frame of this edition we will host The ACTUAL Congress (Agrupación para la cultura y el turismo en America Latina), to which over 150 agencies and operators mainly from Latin America will be invited to participate. All MITM Americas exhibitors have access to this congress free of charge.